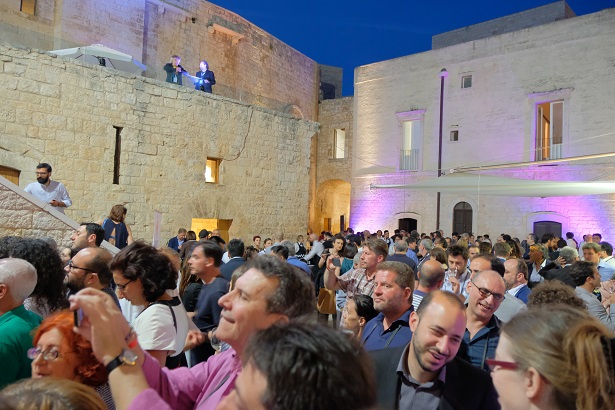 The week devoted to the promotion of wines made from native grapes of South Italy is back from 5th to 11th June. A great ending with tasting benches and a gala dinner at the Castle of Sannicandro (BA)
Less than one month left before Radici del Sud starts, the multi-event which aims at enhancing the wines from native grapes of South Italy held in Sannicandro di Bari from 5th to 11th June 2018. International journalists and buyers are showing an increasing interest in the event which will be joined by foreign journalists and importers being parts of the four juries of the competition, besides the many Italian journalists. This year the four tasting groups will be led by 4 Italian wine connoisseurs: Betty Mezzina (journalist - Sommelier AIS), Chiara Giorleo (journalist – Luciano Pignataro Wine Blog), Andrea Terraneo (Vinarius) and Pasquale Porcelli (journalist – Wine Surf).
The blind tasting mainly aims at promoting and presenting those wines made from South Italian native grapes which aren't well known outside of Italy. Year after year their identity traits are caught by Italian journalists and wine connoisseurs who know a great deal of the South Italian wine panorama. "This great interest in the wines produced in our regions – the organizer Nicola Campanile points out – makes us aware of how important and effective our long lasting job is and encourages us to go on enhancing the territory and its products".
Following the meetings between buyers and producers and after the press tours held on 11th June at the Norman-Swabian castle of Sannicandro there will be the Exhibition of wines and oils open to the public joined by about 100 oil and wine producers as well as an area for producers of food and wine. Both lovers and insiders will be given the opportunity to taste and buy any wines and oils presented by the wineries and all enogastronomic specialties. On the first floor you'll find a special section of producers of organic wines. The day will end in the castle yard with the prize giving of the winning wines held from 7.00 p.m. to 8.00 p.m. From 9.00 p.m. onwards you'll enjoy the buffet dinner prepared by some well known chefs coming from South Italian regions.
THE JURIES OF THE 13TH INTERNATIONAL COMPETITION RADICI DEL SUD 2018
JOURNALISTS AND INFLUENCERS:
Group1
Francesco Falcone – PRESIDENT OF THE JURY - Journalist / Winesurf
Charine Tan – Exotic wine Travel /USA
David Ransom - The Tasting Panel Magazine, The SOMM Journal /USA
Davide Bortone – Journalist / vinialsupermercato.it
Giovanna Moldenhauer - free lance journalist
Matthew Horkey - Exotic wine Travel /USA
Olivera Markovic - Taste It Wines, Global Epicurean / USA
Rebecca Marphy – The Dallas Morning News, Wine Review Online / USA
Group 2
Chiara Giorleo – PRESIDENT OF THE JURY - Journalist Luciano Pignataro Wine Blog
Antonio Cimmino – Journalist / Gastronomia Mediterranea
Cathy Van Zyl – Master Wine - South Africa
Fabien Lainè - France
Michael Wising - Amazing Wines Hedberg & Wising AB / Sweden
Susan Gordon – Forbes, The Daily Meal /USA
Tracy Ellen - Kamens Drinking Wisely&Well /USA
Valentina Vercelli – Journalist / La Cucina italiana
INTERNATIONAL IMPORTERS AND BUYERS:
Group 1
Pasquale Porcelli – PRESIDENT OF THE JURY – Journalist / Winesurf
Allard Ariszetal - Arisz et al. Wijnimport / Holland
Bo Mao – Guangzhou Vita Trading / Guangzhou (CAN) China
Chao Li – Bei Jing Roman's fine wines / Bei Jing (PEK) - China
Fernando Zamboni - Winelands Importadora / Brazil
Mehmet Adanir – Dante Vin / Danmark
Ole Udsen - Asboe & Udsen Vin / Danmark
Paulo De Almeida – The Wine Spot / Holland
Yi Zhong – Guy Yang Pioneer Trading / Guy Yang(KWE) - China
Group 2
Andrea Terraneo – PRESIDENT OF THE JURY - Vinarius
David Sparrow – Sparrow Wine Company / USA
Ji Feibing – Ming Zunhui cellar / Xian - China
Li Peng – Xian Weizhen Advertising Culture spread / China
Liu Bin – Ming Zunhui cellar / Xian - China
Luigi Pucciano – Terre Lente / Holland
Mariusz Majka – Magia del Vino / Poland
Parisima Tamanti – Vino nostro / USA
RADICI DEL SUD 2018
The Exhibition of wine and oil from South Italy - in brief-
Where:Castello Normanno Svevo di Sannicandro di Bari (BA)
When : 11th June 2018

Open to the public: from 11.00 a.m. to 9.00 p.m.
ENTRANCE TICKET: tasting kit €15 (it includes a glass, a bag and the tasting notebook)
BUFFET DINNER in the castle yard € 15
Parking area: available
People under 18 don't pay and are not allowed to taste.
Press office:
Michele Bertuzzo
347 9698760
michele@studiocru.it
Anna Sperotto
349 8434778
PROPAPILLA ASSOCIATION
Propapilla Association's main goal is to promote the territory and to enhance the Apulian wine and food culture, arranging tastings, competitions, meetings and festivals.
In particular through Radici del Sud, the association aims at celebrating and giving visibility to food and wines produced in South Italy, stressing the deep ties to the territory.
Moreover, though the three published guides devoted to pizza restaurants, restaurants and wines, it yearly updates and monitors the food and wine panorama of Apulia, Basilicata, Campania, Calabria and Sicily.
All news