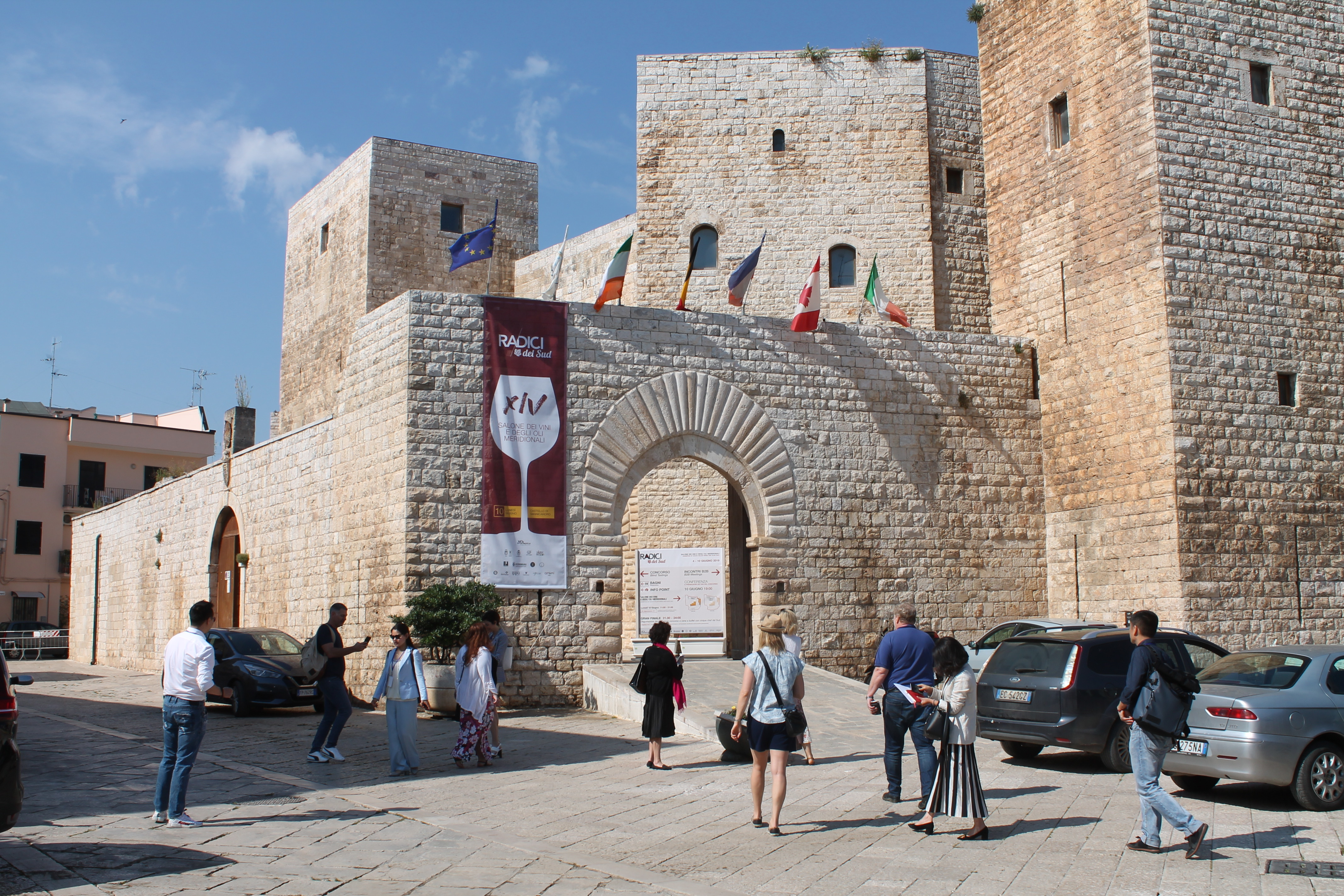 The 15th Wine and Oil Exhibition of Southern Italy, scheduled in Sannicandro di Bari from 18 to 23 November 2020, sponsored by the Regional Council of Puglia, promises to be full of surprises and news. A new composition of the juries of the competition, three new Regions and the redesigned wine fair. The organizers are also surprised by the welcome that the producers have reserved for this edition. We have already passed 129 registrations, and we are happy to announce the names of the first participating companies divided by region.
The 129 companies participating in Radici del Sud 2020
ABRUZZO E MOLISE
AGRICOLAVINICA
A.A. GIOVENZO
CANTINA FRENTANA
CATALDI MADONNA
CIAVOLICH
CIPRESSI
DI BONAVENTURA
PASETTI
PODERE DELLA TORRE
TENUTA TRE GEMME
BASILICATA
AGRICOLA STRAPELLUM
CANTINA DI VENOSA
CANTINE DEL NOTAIO
CANTINE TAVERNA
TENUTA MARINO
VITIS IN VULTURE
CALABRIA
CASA COMERCI
BARONE G.R. MACRÌ
FERROCINTO
STATTI

TERRE DI BALBIA-Viticoltori in Altomonte
CAMPANIA
A.A. SAN SALVATORE 1988
ADELINA MOLETTIERI
ANTICO CASTELLO
AZIENDA AGRICOLA BOSCO DE' MEDICI
BICU DE FREMUNDI
BOCCELLA ROSA
CANTINA DEL BARONE
CANTINE DELITE
CANTINE DELL'ANGELO
CASA SETARO
CHIARA MORRA
DI PRISCO
FLORAMI
IOVINO AZIENDA AGRICOLA-VITIVINICOLA
IL CANCELLIERE
LE VIGNE DI ROSA
MONSERRATO 1973
MONTEDIDIO
NATIV
OCONE I VINI DEL SANNIO DAL 1910
PORTO DI MOLA
RADICI IRPINE
ROSSOVERMIGLIO
SANPAOLO DI CLAUDIO QUARTA VIGNAIOLO
TENUTA DEL MERIGGIO
TENUTE FONTANA
TENUTA MASSANOVA
TERRE CAUDIUM
VIGNE GUADAGNO
VILLA MATILDE AVALLONE
VITICOLTORI DEL CASAVECCHIA
VITICOLTORI LENZA
LAZIO
1. OMINA ROMANA
PUGLIA
A.A. CASTELLO FRISARI
A.A. MICHELE BIANCARDI
A.A. NICOLA SELANO
AGRINATURA
AMASTUOLA
CAIAFFA VINI
CANTINA DI RUVO DI PUGLIA
CANTINA FIORENTINO
CANTINA SOCIALE SAN SEVERO
CANTINE BONSEGNA
CANTINE COPPI
CANTINE COPPOLA 1489
CANTINE DUE PALME
CANTINE MERINUM
COPPADORO
DOMUS HORTAE
DI REDA DOMINI
ELDA CANTINE
ENOLOGO PER AMORE
ERMINIO CAMPA
FATALONE
FRATELLI FRATTA
KANDEA
MADRI LEONE
MASSERIA BORGO DEI TRULLI
MASSERIA CUTURI
MASSERIA MITA
MENHIR SALENTO
MORASINSI
MOTTURA VINI DEL SALENTO
PALLOTTA LEONARDO
PAOLO LEO
PODERI D'AGOSTINO
TENUTA CORALLO WINERY
SOCIETA' AGRICOLA BEATO
TENUTA BRIGANTE
TENUTA GIUSTINI
TENUTE DI EMÉRA
TORREVENTO
UNIONE AGRICOLA DI MELISSANO
VARVAGLIONE VIGNE & VINI
VERDE OLIVA
VIGNAIOLI PUGLIESI
VINICOLA PALAMÀ
SARDEGNA
CANTINA CASTIADAS
CANTINA DORGALI
CANTINA SANTADI
CANTINA TANI
CANTINA TREXENTA
CAPICHERA
FAMIGLIA ORRO
FRADILES VITIVINICOLA
FRANCESCO CADINU
FRATELLI PUDDU
GIUSEPPE SEDILESU
JANKARA
SILVIO CARTA
TENUTE COSSEDDA
TENUTE SANT'ELENA
TENUTE SMERALDA
UNMAREDIVINO DI SINI GIOACCHINO
VIGNAIOLI OLIENA
VITIVINICOLA FULGHESU LE VIGNE
SICILIA
A.A CURELLA FRANCESCA
A. A. ANDREA SIINO
BAGLIO DEL CRISTO DI CAMPOBELLO
BENANTI
BIRGI VINI
CARUSO & MININI
COPPOLA1971
MAGADDINO
NERI AGRICOLTURA DELL'ETNA
PODERE DELL'ETNA SEGRETA
TENUTA RAPITALA'
RADICI DEL SUD 2020 - Exhibition of wines and oils of Southern Italy
Where: Norman Swabian Castle of Sannicandro di Bari (BA)
Open to the public: 23 November 2020
Hours: from 4.00 PM to 10.00 PM
Admission: € 15 tasting kit (including: glass, pouch holder and tasting notebook)
Parking: available
Minors do not pay entry and can not make tastings.
All news